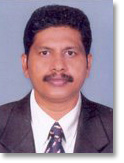 Dr. SANTHOSH KUMAR
M D in Homoeopathic Philosophy from Y M T Homoeopathic Medical College and Hospital, Navi Mumbai under Mumbai University, Mumbai, Maharashtra, India. M D (Post Graduate of Homoeopathic Medicine and Surgery) is a study recognized by Central Council of Homoeopathy, New Delhi.
Career as practioner and consultant in Homoeopathy dates back to the year 1992 after the successful completion of BHMS from Government Homoeopathic College, Trivandrum, Kerala. Thereafter, appointed as Lecturer in White Memorial Homoeopathic Medical College and Hospital, Attoor, Kanya kumari District, Tamilnadu, India. Presently working as Professor and Head, Dept. of Anatomy, in Shree Vidyadhiraja Homoeopathic Medical College, Nemom, Trivandrum, Kerala, India.
CAREER HIGHLIGHTS
Served as examiner and question paper setter in various colleges affiliated to Tamilnadu Dr. MGR Medical University. MG University Kottayam Kerala. Rajeev Gandhi University, Bangalore. Kerala University, Kerala. Kerala University of Health Sciences.
RV HOMOEO CLINIC AND RESEARCH CENTRE
Was constituted with the idea of spreading the success and capabilities of Homoeopathic Medicines for diseases that did not find a complete cure in other fields of medicine and with a social responsibility to help the down trodden and weaker section of the society. The clinic has acclaimed name in cure of various diseases. Patients from different parts of the country and also from abroad have availed successful treatment from the clinic.
LOCATION
R V Homoeo Clinic is conveniently located at Sreekariyam, it is 10 kms west of Trivandrum Central, Just 10 meters from Sreekariyam junction, on the left side of Trivandrum-Quilon National Highway (NH-47).
WORKING HOURS
9 am to 9 pm
9 am to 12 noon on Sunday